I set this blog up a while ago now so I guess introductions are in order. I am familiar with a few bloggers here thru garden forums and Zazzle. I began gardening as a hobby somewhere around the turn of the century and it soon became an obsession. It seems my goal in the intervening years has been to collect any plant that I don't already have,lol. The year 2007 was the Year of the Daylily for me. I collected them with irrational abandon and so when bloom season began in 2008 I could not resist taking daily photos of these new to me daylily blooms. I form habits very easily and soon I was spending more and more time every morning taking photos in the garden.
Fast forward to November of 2008 when I decide that I would like to make a calendar from my garden photos to hang on my beautiful(ugh) blue cubicle wall directly in front of me at work(at least 45 hours a week). A forum post suggested Cafepress as a good place to make one so I went there to do so and was hooked in by their marketing. I set up a free shop with my garden photos. As you might guess , the rest of the story can be found in the links on the upper right of my blog page,lol.
I've spent all of my time working on Zazzle and Cafepress since I started and have barely picked up the camera but here is a picture of my largest perennial bed in September 2008.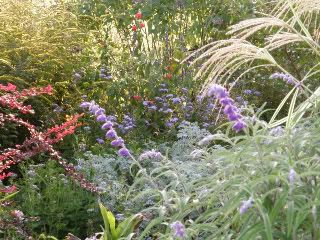 I took a quick tour this past Saturday just before the light was too far gone and was delighted to find this hellebore blooming.
I'm going to make an effort from here forward to get back out in the garden if only for a couple of minutes on the weekends. That IS what it's all about after all.